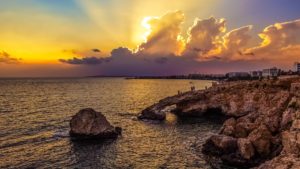 A cruise is always stunning, since it allows you to enjoy the infinite blue of the waters and the sky, as you are floating and staying at a modern, luxurious cruise ship. When it comes to the Mediterranean Sea, there are numerous different destinations that you can visit on a cruise boat. All of them are enchanting and will make the most of your experience. Just remember to take pictures and off you go for a unique spectacle!
Thousands of islands are scattered around the Mediterranean, waiting to be discovered by the lucky few people who reach the shore. Among the top destinations in the Mediterranean, the Aegean Sea with the amazing embroidered coasts of the islands. Cyclades are world renowned for their distinctive architecture and style, while Crete is a wonderful island that combines mountainous terrain and splendid beaches.
Cyprus is another superb destination while cruising along the Mediterranean. This is the island of Venus or Aphrodite, the Goddess of Love. Unspoiled beauty, raw and fierce rocks, steep mountains, long stretches of land and of course marvelous cobalt blue sea! All these along with the 300 days of sunshine and the mouth-watering gastronomy with typical Greek and Oriental cuisine make Cyprus a top destination in the world!
During your cruise tour, you will also be able to pass through Malta. This is the island of the Knights, since the medieval character is prevalent in the area. Another fabulous place to enjoy in the Mediterranean is of course Italy. Sicily and Sardinia, the largest islands of the country, offer superb experiences to travelers! And then it is time for France! Marseille is a wonderful seaport town and welcomes cruise ships from all over the seas. It is a great place for enjoying your cup of coffee over splendid vistas to the horizon.
Of course, there are many other destinations for you to include in your cruise tour. For example, you can head to Spain or even Gibraltar. Africa holds some truly amazing hidden treasures that you are invited to explore. Every place you visit on board is magical, since you are surrounded by turquoise waters and gazing at the marvelous salty oasis all around you. It is a unique experience, where you are welcome to relax and enjoy luxurious facilities and services – all that while at the same time cruising across the Mediterranean!