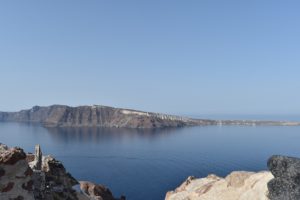 World renowned for its lunar shaped beaches, the fierce rock formations and the whitewashed buildings hanging from the cliffs, Santorini is one of the top destinations for romantic getaways! In line with the distinctive Cycladic architecture, this Greek island encompasses timeless beauty and unparalleled elegance, amazing landscapes and warm hospitality. It is everything one would have wished for during an unforgettable holiday experience!
The Volcanic Eruptions
Santorini has been shaped after continuous volcanic eruptions, having taken place millennia ago. The archipelago consists of smaller islands, which form the caldera. An imposing rock formation emerging from underwater, with its dark color and its unique shape, stands tall and welcomes travelers from afar. Those who wish to wander through the craters of the volcano may do so, embarking on one of the cruise boats sailing to the volcano and the sulfur beach.
Amazing Landscapes
However, there is much more than the caldera for you to see in Santorini. The embroidered coastline resembles life in other planets, with black pebbles and sand, red rocks and all-white dunes. The picturesque villages of Santorini attract worldwide attention and are famous for the sunset vistas they provide. Imagine the sun spreading thousands of chromatic shades of orange, red, purple and blue on the sky. This is a splendid experience, a transcendental journey you should not miss out on.
Besides the superb architecture with the whitewashed houses and the blue shutters, the cobbled pathways and the blossomed gardens, local gastronomy is another exquisite attraction in Santorini. Local products that you will only find here, such as Theran cherry tomatoes and white eggplants, special grape varieties and caper, are combined to perfection in every dish.
Romantic Weddings with Stunning Views
If you are searching for the idyllic scenery to get married and seal the bond of love and affection with your significant other, Santorini is an ethereal destination. You will have the opportunity to exchange your vows overlooking the infinite blue of the Aegean Sea. Whether you choose a quaint chapel or the terrace of a 5 star hotel in Santorini (there are many boutique hotels for you to choose from, such as Volcano View and Petit Palace, Ambassador Aegean Luxury Hotel & Suites and Helianthus Suites), you will find the perfect scenery for this precious, invaluable experience. As the sun is setting, you and your loved one will become one and celebrate your love in one of the world's most treasured masterpieces!